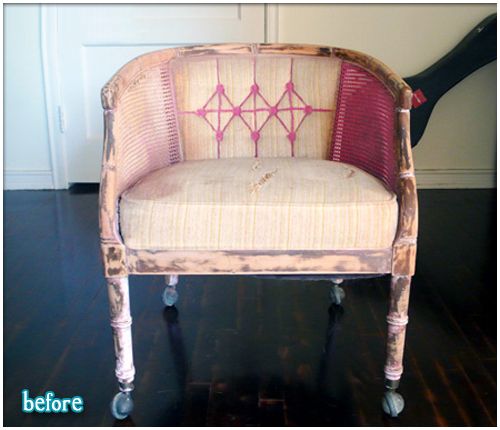 A few days ago I posted this chartreuse redo from Better After, my new blog addiction. Lindsey scours the web for - what else - before and after photos of amazing transformation. Some I love, which I've been saving to
"painted style" on my Pinterest page
. Some are unbelievably awful, even after. Lindsey is always hilarious in her commentary.
Yesterday, I went to a yard sale and scored a $7 and amazingly comfortable chair with a blech floral upholstery job. Remind you of anything?! This one is staying on our porch and will be going white (what else) but probably not chartreuse ... hopefully this after photo - although not MY after - will keep me inspired. Because, yes, the
icky nudey bookcase and chair in the hallway
- still icky nudey.